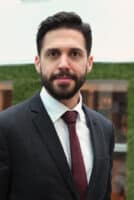 My Job
As the managing director of Fourtold Brussels, I lead our office and its EU public affairs and communications team. I am adept at tailoring messages, preparing client strategies and securing the support of key decision makers.
My Experience
I've been a public affairs and communications consultant in Brussels for many years. Prior to joining Fourtold, I was with H+K Strategies, supporting public affairs and communications for public and private sector clients, managing their reputations in areas like sustainability, digitalization and AI, chemicals and plastics, transport and logistics, and food and health amongst others. My time in Brussels also included a stint in-house for a chemicals association along with more consultancy experiences prior to that.
Before moving to Brussels, I lived and worked in the UAE for many years.
My Proudest Achievements
I'm very proud of being part of a fantastic team and playing a role in Fourtold's remarkable story. We have grown from a small and little-known agency doing great work in the background to a bigger, more established and capable team delivering with real impact. And I'd like to think there are many more achievements to come.
My Education
MBA, University of Aberdeen, UK
(BA) Business Studies, Manchester Metropolitan University, UK
My Languages
English, Swedish & Arabic
My Interests outside work
Having spent my childhood summers in the fields, forests and waters of Sweden, I have a bias towards the great outdoors. Combined with my love of travel, this means I gravitate towards activities like running, scuba diving and hiking – all while discovering new places.
"Still water gets cloudy, running water stays clear" – old Arabic proverb.