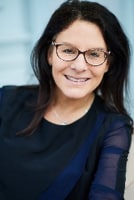 My Job
I have built up and now manage the EU/Global health practice at Interel. My job entails leading a team of twelve dynamic, seasoned public affairs professionals to ensure the successful delivery of integrated public affairs and communications programmes for our clients. Together, we provide strategic counsel to key clients to navigate complex, fast-moving business and policy environments across Europe and globally.
My Experience
I have over 25yrs experience working in public affairs and heath policy in various capacities. Prior to joining Interel, I worked in the UK National Health Service as the Head of Corporate Affairs for the Chelsea and Westminster Hospital. I have worked on Capitol Hill, in Westminster and for the European Commission, including acting as an Expert Evaluator on Public Health research proposals for the European Commission.
My Specialisms
My Proudest Achievements
My proudest achievement is one of my first. Following three years on Capitol Hill, I went to work for an International policy think tank. After just 11 months with the think tank, I was nominated to move to London to deliver an International Working Party on Persistent Vegetative State. With no staff, and a corner room for an office in the Royal Hospital for Neuro-disability, I moved to hire two unpaid interns, and six months later we delivered an immensely successful, conference with attendance from all corners of the globe, and we did it all by fax machine!
My Education
Master of Science: Regulation
London School of Economics and Political Science – London
MSc (Econ): Regulation Specialisation in European Law, utilities privatisation and regulatory reform
Bachelor of Science: Public Affairs/Public Policy
Indiana University – Bloomington, Indiana, USA
My Interests outside work
Reading, Running, Pilates, and most of all spending time with my family.
My Favourite Brussels anecdote
"In Washington, D.C. its who you know, In Brussels its what you know."