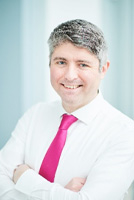 My Job
I am Deputy Managing Partner of the EU Office with joint responsibility for the overall performance of the practice as well as a portfolio of clients in the technology sector. On the client side I manage a team of specialised consultants helping to keep clients ahead of policy and political developments and engaging strategically when required. We are trusted advisers to our clients:  We work in partnership with them to achieve success for their business.
My Experience
Prior to joining Interel, I was head of European affairs for the British Chambers of Commerce (BCC), and opened the organisation's first Brussels liaison office in 2008. In this role, I served as a media spokesman for the BCC on a range of European issues. I also worked in the organisation's policy unit in London leading on better regulation and employment issues.
I began my career as a researcher for a U.K. member of Parliament and government minister, who specialized in small-business policy. I also spent a number of years working on election campaigns in a number of role, including as an election agent.  Through these on-the-ground experiences – which included crafting campaign messages and overseeing get-out-the-vote operations – I gained first-hand tactical knowledge of how political campaigning works.
My Specialisms
My Proudest Achievements
It is hard to single out one achievement. Of course there is always professional pride to be derived from seeing your clients' perspective reflected in legislation or policy as a result of your work. At a simple level it always makes you proud when clients are able to succeed as a result of what you do. If that makes you happy, then you are likely to keep clients for a long time.
My Education
Graduated with a BA (Hons) in History from the University of Leeds and an MRes in Politics from Goldsmiths College, University of London.
My Languages
English native speaker.
My Interests outside work
Husband and dad. Runner and passionate football fan. I like to read about history and current affairs.  I love live music, when I can find the time to get to a concert and like to cook but with mixed success.
My Favourite Brussels anecdote
No single favourite anecdote but to say that Brussels is a small world would be an understatement. It is probably one of the most unique things about the city. Whether you are riding the metro, dropping your kids off at school, or flying out of the city, you are very often bumping into people that you know professionally. It means that Brussels is an insiders' city, where knowing the people as well as the policies really matters.