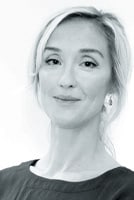 My Job
I am the founder of Stenström Consulting, a boutique firm that focuses on legislative lobbying. I love the nitty-gritty of EU law making but also the wider perspective that comes from working with clients in many different sectors.
My Experience
Director Continental Europe and Head of EU Public Affairs, DLA Piper, Brussels, Belgium
Partner and Managing Director, Diplomat Communications, Brussels, Belgium
Senior Advisor, MHP Communications, Brussels, Belgium
Plus: Board member of the Society of European Affairs Professionals (Programme Committee Chair between 2007 and 2010); Lecturer at Lille University, France, Master II in European public affairs
My Specialisms
My Proudest Achievements
In addition to establishing my own thriving consultancy:  My role in launching the unique concept of a public affairs department within a law firm. I established a team of eight EU public affairs specialists and ran that operation at a young age, including the management of finances, HR, recruitment, service delivery to all clients, marketing activities etc. The Brussels office also served as the hub for all our pan-European campaigns.
My Education
3-year License d'Histoire, Sorbonne University, Paris I, France
3-year Diploma in Political Science and International Administration  (obtained in 2 years) (Université Libre de Bruxelles, Belgium and Växjö University, Sweden)
Plus: courses at Instituto Tecnològico y de Estudios Superiores de Monterrey, Queretaro, Mexico; at Instituto Cervantes de Bruselas, Brussels, Belgium; at Teikyo University, Maastricht, the Netherlands; and at Sorbonne University, Paris IV, Paris, France
My Languages
Swedish – mother tongue; English – native level;
French – native level; Spanish – advanced level;
German – studied at University level
My Interests outside work
Music is my passion (and a quote from a song)! I sing in a local choir – we have an ambitious conductor and have recently given a performance with a symphony orchestra at the Salle Henry Le Boeuf at Bozar and we opened the Fête de l'Iris on the Place Royale in 2018 with a Jacques Brel piece. We have also recorded in a professional studio. I first started the choir when I was four… I have always played different instruments, such as the Swedish folkloric "key fiddle" and the violin, and have taken dance classes ranging from ballroom, to Cumbia, to folkloric… And I very much enjoy going out to dance with friends. I have four incredibly witty kids and we lead a very busy social life!
My Favourite Brussels anecdote
Staying with the theme above: when the European Commission many years ago organised a data protection conference with sections entirely titled after Abba songs… 'Does your mother know?', 'Knowing me, knowing you'…?