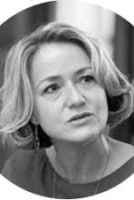 My Job
Cyber & Strategic intelligence & consultancy for EU institutions, NATO, private sector clients.
My Experience
I joined Avisa Partners (formerly CEIS) in 2018, after heading the European Defence Agency's Media & Communications Unit, and before then running the Security & Defence programme at Friends of Europe. I began my career in the defence industry.
My Specialisms
My Proudest Achievements
Running the Security Jam, a global online consultation back in 2010, which brought together close to 4,000 participants from 124 countries for a comprehensive conversation on global security issues.
My Education
King's College London
Sorbonne Nouvelle, Paris
Leiden University
My Languages
French, English, German, Italian.
My Interests outside work
Member of Women in International Security (WIIS) Brussels, where I run an EU-funded project on women in counterterrorism.
Co-founder of the Brussels Binder, the online female expert database dedicated to ending all-male panels.
My Favourite Brussels anecdote
A lady never tells…