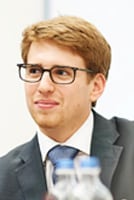 My Job
Finding the right words and giving voice to companies reinventing the way we live, work and move is my passion. I excel at making the complexities of disruptive enterprises simple for broad audiences to understand and get excited about.
As a politico with a passion for sustainability, mobility, and tech, I keep a hand on the pulse of the trending policy issues. I serve as a trusted adviser to some of the most innovative companies in these areas, especially in 5G and the automotive industry. With logos, I also currently serve as secretary-general of the All-Terrain Vehicle Industry European Association and executive manager of the 5G Automotive Industry Association.
My Experience
After more than ten years in Brussels, I designed and led multiple advocacy campaigns for global and EU clients, helping them navigate gridlock and overcome legislative challenges.
Beyond co-decision procedures, I also built a strong expertise in comitology and standardisation politics over time. Working and advising industry associations is one of my fortes, from coalition-building, profiling, or governance issues to coordinating technical activities.
My Proudest Achievements
Growing a cutting-edge automotive & digital industry association since its inception in 2016 from 8 to 110+ members, establishing it as a high-profile and respected voice in the ecosystem
Running a three-year campaign on a highly political comitology file and securing a win for our client by obtaining a super-majority in the Council against all odds
My Education
MA, Sciences Po Paris – European Politics & Public Affairs (2012)
BA, Loughborough University – Politics, History & International Affairs (2010)
My Interests outside work
Amateur cook and wine enthusiast, passionate about Scotland and rugby.
My Favourite Brussels anecdote
Advocating on a technical file in Strasbourg, my client and I met with a British Conservative MEP, well-known for being outspoken. My (engineer) client gave our usual oral brief, but the MEP kept telling him that she didn't understand the problem, that this was far too technical, etc.
As I attempted to come to his rescue, she stopped me in my tracks: "this young lady sitting on the sofa behind you is my intern Laura, now you explain your problem to her. If she gets it, I'll get it." So, I ended up turning my back completely to her, trying to make our case to Laura. Thankfully, with some success, the conversation then became much more conclusive with the MEP.
Two valuable PA/life lessons I took away from this: first, everybody in the room matters, no matter rank or title. Second, if you can't make up your case to a random stranger, you won't do a good job convincing the real decision-makers.