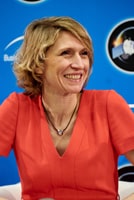 My Job
I am having a lot of fun and intellectual stimulation working with a great team and helping clients navigate the European regulatory and political environment. After more than 15 years in public affairs, my passion for advising clients and designing successful strategies remains intact!  
My Experience
Since January 2020 – Partner, Avisa Partners
Avisa Partners is a leading independent European consultancy. The group has offices in Berlin, Brussels, Geneva, London, Paris and Washington DC, with over 200 staff.
We specialize in providing effective solutions – backed with high-level access and intelligence – for multinationals, trade associations and governments on sensitive matters, including regulatory, political, cyber, digital and reputational risks. Online advocacy is part of our DNA – we go beyond social media strategies by utilising digital tools and technology to run genuine online advocacy campaigns.Commission's DG Trade (Market Access, US and Canada Unit), I started at GPLUS as junior consultant in 2004, was made senior consultant in 2006 and was Account Director from 2007 to 2009.
My Specialisms
My Proudest Achievements
The copyright battle
Issue: Internet giants generate massive advertising revenues from content produced by others, including press publishers' and news agencies. The situation has been draining the lifeblood of the independent press. The copyright directive was meant to rebalance the situation and ensure big tech would remunerate content properly. But the reform was fiercely opposed by big platforms who campaigned on a supposed threat to people's free access to the internet. Yet this has never been in the slightest doubt. After the rejection of the copyright directive by the European Parliament (in plenary) in July 2018, the situation looked bad, if not desperate.
Action: Having been active on copyright issues for many years, only the involvement of highly regarded journalists and war reporters could change the game. Sammy Ketz, former AFP bureau-chief in Iraq and who was seriously injured in Baghdad in 2013, authored an op-ed called "Article 11 [publishers' rights] a question of life or death". We went to Strasbourg together in September 2018 ahead of the second plenary vote on copyright. His op-ed had been co-signed by more than a hundred war reporters across Europe and translated into all European languages (including Maltese!).
Outcome: The second vote was positive opening the way to trilogue negotiations which concluded successfully a few weeks before the May 2019 European elections. Press publications and press agencies should be getting remuneration from big tech in the near future and be able to sustain quality journalism and free press.
My Education
College of Europe (Master in EU Politics) – Bruges, Belgium
Georgetown University (School of Foreign Service)– Washington DC, USA
Science-po Strasbourg (BA in EU Politics & Law) – Strasbourg, France
My Languages
English and French.
My Interests outside work
Playing the piano (I started four years ago)
Discovering talented and creative chefs
My Favourite Brussels anecdote
Very few people know that Residence Palace hosts an Art Deco swimming pool. A journalist showed it to me fifteen years ago. Does it still exit? If it does, we should put ARAU (Atelier de Recherche et d'Action Urbaines) on the case so it may be properly renovated and reopened one day!