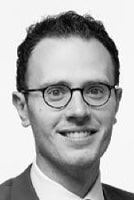 My Job
As Partner in the Financial Services practice of a big consultancy firm, I advise a wide range of international clients on political and regulatory risks. I also provide strategic counselling on profile building and outreach activities with a strong focus on creating a positive dialogue between stakeholders and EU institutions.
My Experience
I am an experienced and strategic government relations expert with almost 15 years of experience in achieving positive legislative and regulatory outcomes, with an in-depth knowledge and practical experience of European Union and member state policies and their impact on business. I have developed my career in prominent EU public affairs agencies and have advised various blue-chip corporations and gained extensive expertise in the area of financial services with a focus on markets and infrastructure policies.
My Proudest Achievements
Having helped building world class consultancy services for top international clients and having worked for many of those clients for over a decade.
My Education
MSC in International and Diplomatic Sciences (European Economics major field of specialisation)- University of Genoa, Italy
Diploma in Advanced Study (International Relations and Economics), Oxford Brookes University, Oxford, UK
Master in European Studies- Catholic University of Sacred Heart, Milan/Pázmány Péter Catholic University, Budapest
My Languages
English, French, Italian.
My Interests outside work
I am a food lover, a former professional swimmer and history passionate.
My Favourite Brussels anecdote
Have many but the first lesson I have learned while starting my first job as consultant (and during my first month of work) was that Italian is never a safe language to use in case of coding need anywhere, anytime in Brussels!