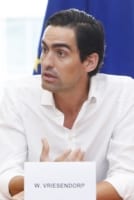 My Job
I am the founder of #SustainablePublicAffairs, the first Public Affairs firm to only take on cases that have a positive impact on the environment.
Changes to our environment make that we find ourselves at a defining moment. What do we want our future to look like?
Business plays a pivotal role in the answer to that question if doing business in a more environmentally friendly way can be made (more) profitable.
Therefore, our clients, sustainable top-runners across different industries, need their advanced standards to become the norm for all market players.
We help them to influence the "EU" to raise regulatory ambition (or have it applied in a better way) so their leadership on sustainability becomes a competitive advantage.
We call that policy driven growth for sustainable business cases – and fostering that is our mission.
My Experience
I qualified as a lawyer in the Netherlands, where I worked with Allen & Overy on competition and antitrust law. After this, I moved into public affairs, specialising in competition and environmental issues. Previously, I was a partner with FIPRA International where I was co-head of the competition practice and head of the environment practice.
My Specialisms
My Proudest Achievements
We have recently been able to convince the European Commission – via a society-wide campaign – to halve the authorisation period for a hazardous chemical. This means that the sustainable alternatives of our clients can now reach the market in half the time.
This is unique, and we consider this a big win – not only for our clients, but also for society at large. That is the sort of sustainable, opportunity-driven public affairs I am passionate about: #SustainablePublicAffairs.
My Education
I graduated from Leiden University in the Netherlands with a Master's in civil law and am qualified as lawyer to the Amsterdam bar.
My Languages
English, French and Dutch.
My Interests outside work
Very simple; my wife and three kids!
My Favourite Brussels anecdote
I once had to help write a plea for the Court in Luxembourg. When I handed it in to the partner, he corrected it and then edited it by moving all the verbs to the start of the sentence; in Dutch they're normally at the end of a sentence. This made the phrases grammatically incorrect.
I was surprised by this; he explained that this would help the translators to inform the judges, who did not speak Dutch, more clearly. This dedication to your client, this drive to win a case based on attention to the smallest details and this creative understanding about how 'Brussels' works, has always inspired me.