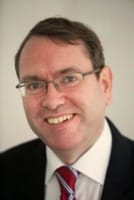 My Job
I head up the team on client engagement and strategic advice.
My Experience
My career in Brussels has always been in financial services consulting. I am a trained banker and worked with ABN Amro in Hamburg and have also been a university lecturer in economics and politics.
My Specialisms
My Proudest Achievements
Having contributed to the European project for over 25 years, coming to Brussels just after the Maastricht Treaty was signed, working in a small part on the introduction of the Euro and the creation of an EU Single Market for financial services that remains open and fully internationally integrated.
My Education
Cristian-Albrechts University, Kiel, Germany

University of Limerick, Ireland

Queen's University, Belfast, Northern Ireland
My Languages
English and German.
My Interests outside work
Life is never dull. What makes me get up every day is that I never stop learning about the world around me. Life also never stops providing us with challenges for which I want to play my part to find solutions. All this is based on the value of family and friendships.
My Favourite Brussels anecdote
There are really too many to tell. The coming together of so many nationalities, backgrounds and views makes Brussels the perfect home for anecdotes and stories, especially for those of us who have been around for a while.