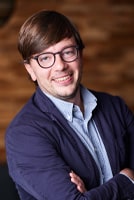 My Job
For over twelve years I have supported clients – mainly from the energy sector – address their regulatory challenges and seize policy opportunities. Helping them navigate a rapidly-evolving policy landscape, we (I would not be amongst the BestInBrussels without my outstanding team) provide continuous advice on advocacy strategies and devise complex policy campaigns to support our clients' business interests.
I also support non-governmental organisations in representing the rights of vulnerable groups in employment policies.
My Experience
I arrived to Weber Shandwick for an internship right after my studies.
My Specialisms
My Proudest Achievements
As part of our work in social policies, I devised and implemented a campaign to promote the rights of persons with disabilities in regional policy. As a result, all EU regional funds are subject to non-discrimination and accessibility criteria, meaning that no EU money will be used to creating additional barriers for persons with disabilities.
More recently, I was responsible for the MakePowerClean campaign, a digital advocacy campaign that helped prevent public subsidies in the form of capacity mechanisms to be allocated to coal fired power plants.
My Education
Bachelors Degree in Information and Communications Science, Université Libre de Bruxelles
Masters Degree in Corporate and Institutional Communications, Université Libre de Bruxelles
My Languages
Spanish
French
English
German
My Interests outside work
I enjoy cooking for as many people as possible as much as I enjoy a calm afternoon at home reading a good book. I love traveling as far as trains can take me and my growing family (for logistical and climate reasons), either to go for a good mountain hike, to enjoy the coast or to discover new places, new dishes and new people.