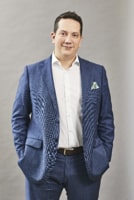 My Job
I am a political strategist and work with clients to shape public policy. I am a big supporter of proactivity and being well prepared, something I always advise clients to do. I enable clients to tell stories with impact and deliver the right messages. I also have to admit that I love running workshops and training sessions for clients, a remnant of my past in academia that left me a bit of a teaching bug.
My Experience
I started my career in academia, at KU Leuven, where I spent six years as a researcher and teaching assistant. I then worked for a research consultancy, before taking over the EU affairs department of a medical association in Brussels. I then moved to Acumen, where I had the opportunity to further develop my public affairs and communication skills and become a trustworthy consultant and advisor to clients. Now, from my current role as Partner, I work with my fellow Partners to lead our growing business and a wonderful team of consultants, expand our services, while always delivering our best for clients.
My Specialisms
My Proudest Achievements
I am extremely proud for having contributed to making Acumen's healthcare practice a reference point in Brussels.
My Education
Undergraduate: International and European Studies, University of Macedonia, Thessaloniki, Greece.
Post-graduate: MA International Relations, King's College London, UK.
Post-graduate: MA Conflict and Sustainable Peace Studies, KU Leuven, Belgium.
My Languages
Greek, English, French
My Interests outside work
I love road trips with my family, watching football and basketball, cooking with/for my wife and kids, and anything gadget/tech related.
My Favourite Brussels anecdote
I was once at an informal briefing a Commissioner was giving to journalists. The atmosphere was very friendly and the journalists were bombarding the engaged Commissioner with questions. At some point, one of them turns and says "Commissioner you forgot to answer my question", to which the Commissioner casually replied "Oh I am really sorry, it's my Alzheimers". This made his Communications Advisor jump out of her chair, realising the comment that was made and the audience it was made to, and scream "please stop making jokes like this, do you want to kill me?"