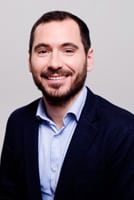 My Job
I advise clients on EU public policy, government affairs and public relations, covering the full spectrum of activities from strategy development to campaign implementation and communication. My passion is to analyse and contribute to EU politics and policies, and this is what I try to help my clients do. I very much see myself as an intermediary between EU policy-makers and my clients, whose role is to make sure both sides understand each other and where they are coming from.
My Experience
I've been with Portland since 2010. Prior to joining the company, I started my career in the European Commission, as a "blue book" trainee and then contract agent in DG Employment and Social Affairs, where I worked on European Social Fund programmes in Germany. I also did volunteer work for many years as a contributor and editor of "Euros du Village", a collective blog on EU affairs. I am a member of a number of pro-European associations and think-tanks, to which I occasionally contribute policy papers.
At Portland my work is varied but largely focuses on 2 main sectors: telecoms and digital, with a strong competition policy / antitrust angle; and pharma / healthcare. The scope of services I cover is broad, from strategy to lobbying to messaging development, media relations and media trainings.
My Proudest Achievements
One of my proudest achievements was the work I did for Equifax, a credit referencing and financial services company, in the context of the GDPR legislative process. Our objective was to draw policy-makers' attention and to secure a solution for our clients' industry linked to very specific aspects of the proposed text (in particular the definition of the "legitimate interest"). Thanks to solid arguments and expertise, we managed to do so despite the challenges posed by a huge piece of legislation and the massive wave of lobbying it triggered.
I'm also very proud of the work I've been doing for many years to support Qualcomm, the world's leading wireless communications developer and mobile chip producer, in favour of pro-innovation EU digital agenda.
My Education
I hold a Franco-German double-degree in social sciences from Sciences Po Bordeaux and the University of Stuttgart. I also hold a master's degree in European politics and administration from the College of Europe in Bruges.
My Languages
Besides my native French, I am fluent and work in German and English.
My Interests outside work
I'm a big sports fan – any type of sports really, but particularly football and tennis, which I try to watch and play as much as I can. Roger Federer is my true hero and I'm quite confident taking any quiz about his biography and career records :-). I'm also a keen runner, swimmer and skier. My other big interest is literature (French fiction mainly). A convinced pro-European federalist, I also love debating French and EU politics.
I'm father of a 6-year-old boy and 3-year-old girl given that this is a pretty important part of my life.