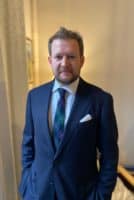 My Job
Crafting, building and elaborating impactful public affairs strategies and campaigns in a wide variety of sectors.
Providing clients with candid advice on strategic decision-making.
Applying the lessons learned from my years of experience in the political sphere to the private sector.
I have a particular passion and interest for digital competition and antitrust issues.
My Experience
Before joining Avisa Partners, I spent over 15 years at the European Parliament and have 18 years of professional experience in Brussels, both in the EU Institutions and a public affairs consultancy before that. During the last 11 years before joining Avisa, I worked in the Economic, Trade and Transport committees of the EP. I have a particular record for digital antitrust cases and various competition cases. Since 2012, I have been actively following the EU Google Antitrust cases. More recently, I worked on the Digital Market Act and the Digital Services Act files. During my years at the European Parliament, I actively helped elected Members in the EP delegation with Israel, China and the EP-USA Delegations.
My Proudest Achievements
Getting to meet one-to-one his holiness the Dalai Lama.
My Education
Bachelor's in Politics and EU affairs, Facultés Universitaires St Louis and ULB in Brussels.
Master's in European Affairs from the Institute of European Affairs of the ULB in Brussels.
My Languages
Italian, French, English, Spanish, Portuguese and Catalan.
My Interests outside work
Riding my bike with friends, mushroom picking, mountain hiking, discovering nature with my children, playing soccer and chess.
My Favourite Brussels anecdote
Discovering who are the consultants and lobbyists of the different companies at the Winston Churchill building's Swan Bar at the European Parliament in Strasbourg during plenary sessions.