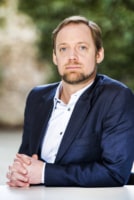 My Job
I am a storyteller, drawing on a decade's worth of experience of EU digital policy to help companies understand how they should relate to the challenges policymakers are trying to address, and weave a narrative of how their business can help policymakers serve citizens and society as a whole. In a constantly changing landscape buffeted by the digital and green transitions, the ongoing pandemic and geopolitical upheaval, my job is to help clients chart a path for their business that maintains their license to operate, within the parameters set by competition, regulation, customer expectations and rapid technology change.
My Experience
Previously a journalist, I established the EU technology practice of legal news agency MLex in 2008, where I remained for 10 years and kept a daily record of some of the landmark policies in EU tech policy, including sweeping reforms to the telecom market, privacy law and copyright. Before that, I worked as an analyst on the telecom newsletters published by Informa Telecoms & Media.
My Proudest Achievements
In 2010, two years before the first draft of GDPR had been released, I wrote an article that framed many of the elements that would ultimately end up as the cornerstones of the new privacy regulation, such as the right to be forgotten, and even forecasting the rise of ethics as a digital regulation field many years before the topic made the leap from academic to policy conferences.
My Education
BA Journalism and Economics at City University London in 2006.
My Languages
English, French, Spanish, Swedish.
My Interests outside work
My wife and two children are my enduring passion, but many other hobbies fill my spare time. Evenings are mostly spent cooking, and in the weekends I try to get out to explore Belgium's nature and picturesque villages, and run a troupe of Swedish scouts on Sunday afternoons.
My Favourite Brussels anecdote
Karl Marx most likely wrote the Communist Manifesto in the house where he lived 1945-1948 in Ixelles, a 20 minute walk from the European Parliament.