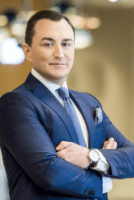 My Job
Representing the industry's interests toward the European institutions, national authorities and international organisations.
My Experience
Currently I am Partner at Hague Corporate Affairs and lead the Brussels office, providing strategic advice to and representing a large portfolio of clients towards the European Institutions. My clients are mainly corporations and industry associations operating in different fields such as Biobased Economy, Circular Economy, Clean Technologies, Defence & Cybersecurity, Energy & Environment, Sustainable Food, Innovative Agriculture and Life Sciences & Health.
I started my career as political analyst at the American Enterprise Institute for Public Policy Research in Washington D.C. I then moved to Brussels where I specialized in European Public Affairs working as an in-house lobbyist for several corporations, strategic advisor for one of the largest Dutch lobbying firm and Director General for a global industry association before joining Hague Corporate Affairs.
My Specialisms
My Proudest Achievements
Consolidating, growing and leading the Brussels office of Hague Corporate Affairs with the extraordinary support of a great international team.
My Education
Master's degree in International Relations and European Integration at the Catholic University of Milan.
Bachelor's degree in Political Sciences and International Relations at the Catholic University of Milan.
Teulie' Military Academy of Milan.
My Languages
English, German, French, Italian.
My Interests outside work
Horse riding, tennis, wine tasting, fine dining, Cuban cigars.
My Favourite Brussels anecdote
I will share it over a glass of Bourgogne Pinot Noir 😉