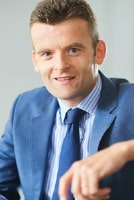 My Job
Head FleishmanHillard's Financial Services Practice in EMEA, responsible for leading on European regulatory, competition and reputational strategy-setting for clients across the sector.
My Experience
Advised the world's largest global institutions and market infrastructures as well as supporting innovative new entrants in the industry. Background in financial services, having served in the business advisory and assurance practice of one of the world's leading professional services organisations and in the corporate finance department of a global banking group.
Separate from these roles, worked with the European Commission's Directorate General for External Political Relations, working with a team of officials with responsibility for external "Security Issues".
My Proudest Achievements
Bringing up a family.
My Education
Bachelor of Arts degree with honors in Politics, Philosophy and Economics from Oxford University; Qualified as a chartered accountant.
My Languages
English, French.
My Interests outside work
Swim, bike, run.