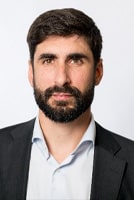 My Job
I head the Brussels Healthcare and Lifesciences practice and I am part of the management team of the Brussels office.
My Experience
I started my career in consulting at KPMG before moving into research as manager of EU-funded projects focusing on innovation management. I quickly realised that a research career was not for me.
I moved to the funding research side and worked 8 years in the Health department of DG Research & Innovation at the European Commission. Initially in charge of a portfolio of projects in the biotech sector, I contributed to developing and implementing the EU's research & innovation policy towards small and large industries in the healthcare and Lifesciences sector. As an adviser to the Health Director, I worked across several DGs and contributed to various EU policies and legislations affecting the sector.
After 8 years in the EU institutions, I was looking for new challenges. I resigned from the European Commission to join FTI Consulting and head the Healthcare and Lifesciences practice.
With a team of 10 healthcare specialists topped-up with communications experts we advise our clients – pharma, medical devices, trade associations, patient organisations as well as international organisations – on what's cooking in Brussels and much more.
My Specialisms
My Proudest Achievements
Significantly growing the healthcare practice client base, working with a bunch of great organisations and people on strategic issues, seeing them coming back year after year.
My Education
Master Business, INSEEC Business school
Bachelor, Political sciences, Paris X
Master European affairs, Science Po Lille
My Languages
French, English
My Interests outside work
I am a big fan of watersports – surfing, windsurfing and kitesurfing – that I practice since I am a kid and used to teach. Traveling to exotic places to ride or simply sharing some good time in my home spots with friends
My Favourite Brussels anecdote
In the Thalys, traveling back to Brussels an old elegant French lady ask me: "You live in Brussels. So…you speak Belgium?". That's how much French people know about Belgium…the opposite is not true!