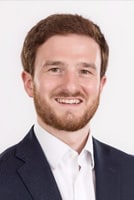 My Job
As Chief Strategy Officer, my role centres around growing RPP's business across the healthcare sector and defining new strategic directions to build advocacy activities with our clients. Furthermore, my role includes managing projects with patient groups, medical professionals and the healthcare industry both in Brussels, Madrid and London and in a pan-European coordination role.
My Experience
Having joined the RPP in 2014 and worked across our Brussels, London and most recently the Madrid offices I have built experience leading teams focusing on EU and national healthcare policy. Alongside representing clients in several Brussels trade associations and building longstanding partnerships with policy makers across Europe, my work has centered primarily around building policy in the rare diseases and oncology field where the EU's added value is most prominent and we have been able to drive campaigns focused on catalyzing the ability for policy to improve patient outcomes.
My Specialisms
My Proudest Achievements
During my work at RPP I have had the privilege to work with, and on behalf of, many patient organisations. My proudest achievement has been witnessing the clear evolution of partnerships that my colleagues in patient organisations have been able to build with policy makers as a result of successful policy-driven campaigns. The clear patient-centric approach of a broad range of European policy makers in the 9th European mandate was evidence of the amazing effort of patient advocates of Europe.
My Education
Bachelors: 1st class degree with honours in Politics and International Studies from Warwick University, UK.
My Languages
English, French, Spanish.
My Interests outside work
I am an avid sports enthusiast and a jazz musician – any chance to discuss those topics may greatly extend conversations!
My Favourite Brussels anecdote
Of the many Brussels anecdotes, one of my favourites is during a well-attended interest group meeting an external expert called all participants to join in a short stretching session to 'stay active' throughout the meeting – an important part of the code against cancer. The ensuing sight of well-dressed MEPs and external stakeholders mimicking yoga poses in a Committee room is one that will be etched in my memory for ever!