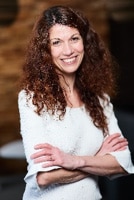 My Job
Healthcare decisions can significantly impact the health, well-being, and ability to contribute to society of people and families from one day to another. These decisions are no longer taken monolithically by regulators and payers but are formed upon input from various stakeholders through different processes and levels of governance. As similar complex dynamics and factors affect people's health-related attitudes and behaviours, my job is to advise clients on how to put in place effective public affairs and communications strategies that are relevant in the context they operate in and have the potential to shape perceptions, behaviours and decisions. One of the services I enjoy the most is developing multi-stakeholder partnerships and supporting clients in forming alliances to move forward a common cause. Another very important part of my job is to motivate teams to be critical of the work they do, challenge clients and develop bespoken and tailored programmes for our clients. My personal mantra is "never repeat twice the same project" but always think about different ways and methods of work to achieve specific goals and make a real impact in the policy space.
My Experience
I have gained work experience in both the public and private sectors. Prior to joining Weber in 2012, I have worked as Policy Assistant for the European Public Health Alliance and as Health Policy Expert in the Brussels liaison office of the Veneto Region for over 4 years. I have also served a political mandate for my municipality during my studies. Health policy is my number one passion.
My Specialisms
My Proudest Achievements
In these 13 years of work in Brussels, I had the opportunity to work with many amazing people that have shaped the way I work and think today. What really makes me proud of my work is to have driven the successful application of proposals for the set-up of three European Reference Networks, which will shape how cross-border care will be delivered in the near future, and supported clients in developing successful project proposals funded through several funding mechanisms. I have also spearheaded successful integrated policy and advocacy programmes, including the #Breathing Hope Campaign, which led to the adoption of a Written Declaration in the European Parliament and was selected for the European Excellence Awards in 2017.
My Education
I graduated from the University of Bologna in International and Diplomatic Sciences and European Studies. Following a short work experience in France, I did a Master's Degree in Health, Community and Environment at the London School of Economics.
My Languages
I am an Italian native speaker, who speaks fluently English and French.
My Interests outside work
I love cooking for friends and family and always find excuses to throw big parties to celebrate anniversaries and birthdays. I have a big one coming up next year…When I can, I also love escaping the country (which I love by the way) towards sunnier destinations.