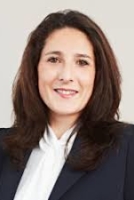 My Job
I provide sound advice and strategic thinking about how efficiently and ethically, raise a voice in the EU arena, based on my experience and a passion for my job.  I also teach on EU lobbying & strategies. Internally, I lead a great team of EU professionals and I contribute to take Athenora to the next level.
I am also a mother of three young children!
My Experience
17 years of experience in EU public affairs – Lobbying is at the heart of my career. Over these years, I learned a lot of skills thanks to Stéphane Desselas, Athenora's founder and my true mentor.
My Proudest Achievements
I am most proud of finding source of happiness in the little things of everyday life at work and with my family. And I am proud of keeping my moto alive, despite this crazy world: "Everything is possible!"
My Education
Executive MBA (2018-2020), I

AE Aix-Marseille Graduate School of Management

Master in EU politics (2003-2004) Mention Grande Distinction, IEE, Brussels – Editor-in-chief of Eyes on Europe magazine
Sciences Po Aix (1999-2003) Diplôme de Science PO
My Languages
Molière & Shakespeare
My Interests outside work
I love cooking with the kids! I love taking the roap in a camping-car without given destination and just enjoying a pure freedom, breathless landscapes, and incredible people.
My Favourite Brussels anecdote
Very personal but I can still hear the sound of my heart beating in my chest the first time I entered into the European Parliament.