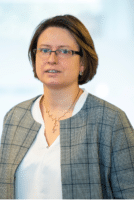 My Job
I lead the Grayling team in Brussels, providing high-level strategic advice to clients in the healthcare, agri-food, and chemical sectors
I help companies and trade associations understand and successfully manage their political and regulatory issues. This includes the development of strategies, messaging and positions, direct and indirect engagement with decision-makers and influencers.
My Experience
Over 15 years in Brussels :
Over 7 years in consultancies working on agri-food, chemicals, healthcare and sustainability.
8 years in house with Syngenta, world leader in crop protection and seeds.
My Specialisms
My Proudest Achievements
Building from scratch one of the practices of a leading consultancy in Brussels.
My Education
LLM IP Law (KULeuven), MA European Political and Administrative Studies (College of Europe)
MA International Relations (Université Catholique de Louvain)
BA (Hons) in European Politics (University of Kent)
My Languages
English, French, Dutch, Italian
My Interests outside work
Spend quality time with my family, travel around the world, look for stunning landscapes. I also play field hockey and love swimming.
My Favourite Brussels anecdote
When I was in-house, Syngenta was unknown in Brussels. I developed a strong narrative around innovation and sustainability, including proof points and examples from the company's CSR and product stewardship programme. Then I met with stakeholders. I was so passionate about my work that one day, I was asked which NGO I was representing.