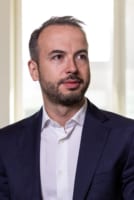 My Job
I provide strategic advice to multinational clients on EU antitrust and competition policy matters across energy, telecoms, technology and other sectors, by turning the challenges my clients face into opportunities and actionable recommendations.
In addition, I contribute to the growth and development of Kekst CNC's Global and EU public affairs offer, together with my colleagues in London, Stockholm, Berlin and New York.
My Experience
I am a lawyer by training and spent several years in the private practice and at the Ministry of Justice in Greece, before moving to Brussels. Following my studies on European Business Law, I continued my career at DG Competition, where I joined as an intern the team working on the antitrust pay-TV investigation.
Before joining Kekst CNC's team in Brussels, I worked for many years for a leading international strategic communications company in Brussels.
At Kekst CNC, I am Director in charge of public affairs, crisis and issues management, strategic counsel and financial communications.
My Specialisms
My Proudest Achievements
Having helped clients implement world-class public affairs campaigns in Brussels and beyond. Engaging with policy and lawmakers to support them in adopting well-established decisions that take into account market needs and developments has always been a challenge I successfully managed to address on multiple occasions.
My Education
LL.B, Aristotle University of Thessaloniki, Greece
LL.M in European Business Law, Institute for European Studies, Vrije Universiteit Brussel
PhD Candidate in Competition and Computer Law, Aristotle University of Thessaloniki, Greece
My Interests outside work
Enjoying good wine, Crossfit and sports, travelling and cooking for friends and family.
My Favourite Brussels anecdote
During the Oral Hearing on the pay-TV antitrust case, one of the parties released a video where Tom Cruise in a very catchy video combining scenes from "Mission Impossible" and "Cocktail" tried to convince DG Competition's team not to rule against them. Undoubtedly, it was an unexpected intervention that left us all speechless.