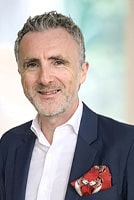 My Job
I work at a dynamic business strategy consulting firm, BOLDT Partners, with a group of inspiring professionals, advising businesses across Europe and the EEA region on how to navigate the EU's labyrinthine system
My Experience
I began my career at the European Commission, before spending more than a decade at two of Brussels' leading public affairs agencies. I've worked with inspirational foundations over the years, including for more than a decade with a Swiss NGO which campaigns to end the international ivory trade – sadly, no end in sight for that.
My Proudest Achievements
Being part of the campaign to end the trade in baby elephants, agreed at the Convention on the Trade in Endangered Species (CITES CoP 18) in Geneva in August 2019
My Education
NUI GALWAY Ireland (BA 16th century Anglo-Irish History & early medieval English Lit) and ULB Brussels (MA International Relations) University
My Languages
English, French.
My Interests outside work
Campaigning to end EU support for the international ivory trade!
My Favourite Brussels anecdote
Brussels. Germ warfare preparation at Irish and UK airports on the second weekend of March 2020 with St Patrick's Day celebrations cancelled in Dublin; 16m people are locked down in Italy, the country's Olympic Committee is to suspend all sporting fixtures until 3rd April and there have been riots in 27 Italian prisons. Yet, in Brussels, 705 MEPs are coming to Brussels this week for the plenary session and at the airport it's business as usual – no signs/notices/advice about coronavirus.
Really?