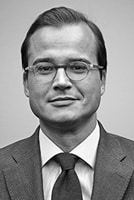 My Job
Providing sound guidance in much more interesting times than many would have asked for.
My Experience
A decade of lobbying in Brussels preceded by a decade in business and finance journalism, most recently with Bloomberg in London. Started as academic assistant at European Centre for Comparative Government and Public Policy in Berlin. Wrote my MA thesis on institutional design of competition law and policy at the European Commission's library in 1997.
My Specialisms
My Proudest Achievements
When years of efforts to establish an EU policy for which there is no genuine EU competence culminated in an 'action plan' that eventually helped set the conditions under which our client is still operating across all European markets.
My Education
Law and politics. Münster (Law school), Berlin (MA Political Science) and Sussex (MA European Studies). Post-graduate research at European Centre for Comparative Government and Public Policy (Berlin).
My Languages
German, English.
My Interests outside work
Pretty much taken up by three small children and my commute between Brussels and London.
My Favourite Brussels anecdote
The scope of our regular litigation support services' scope was once dramatically exceeded when our client's CEO was arrested by Belgian authorities. Still very grateful for Commissioner's support in facilitating a swift resolution.