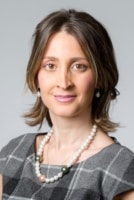 My Job
As a partner in Schuman Associates I advise leading corporations to set up successful B2G strategies with the EU institutions and develop emerging market programmes to grow their business through EU public sector and donor funding.
My Experience
For the last 17 years I have been working with leaders and multinational clients in a wide range of sectors enabling their business transformation in the EU market.  Before joining Schuman I worked with the European Commission's Pre-Accession Financial Instruments Unit and with the Euro Citizen Action Service in Brussels.
My Specialisms
My Proudest Achievements
I have grown and evolved professionally in Schuman Associates. I am proud for our work ethic, our corporate culture and our collective achievements. The trusted partners we have become for our clients to transform their business mindset and drive positive change together.
My Education
I graduated in History and International Relations from the American College of Thessaloniki.
I hold a Master Degree in International Relations from the University of Edinburgh and a Master Degree in European Integration and Development from the Vrije Universiteit Brussel.
My Languages
English, Italian, French, Greek.
My Interests outside work
Planning trips from A to Z for my family – a true joy. Travel blogging. CrossFit.  Sailing. And for my daily source of inspiration, a refreshing walk in the woods listening to my favourite podcasts.