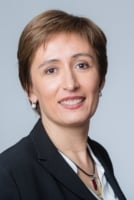 My Job
Lead an awesome team of consultants while we guide our clients through the tsunami of EU funds for the next decade. Design strategies with clients from diverse sectors:  Digital, Healthcare, Culture or Research and Innovation to leverage EU funds for their businesses
.
My Experience
After a first year at a Regional Office in Brussels, I joined Schuman Associates as a junior member of a very small team. I grew professionally within the company and became a partner of a >25 staff consultancy with HQ in Bxl and several local offices in Europe.
My Specialisms
My Proudest Achievements
Keeping a work/life balance, while developing an authentic company culture embraced by its people who contribute to and share our values.
My Education
Graduated in Law & Economics- Deusto University-Bilbao
Masters in EU Studies- University of Amsterdam
Leading in Digital Times Master– Solvay University, Brussels
My Languages
Spanish, English, French and Italian.
My Interests outside work
Hiking, Yoga, Travelling & Home-organising.
My Favourite Brussels anecdote
In the beginning everyone comes to Brussels for just 6 months, but…