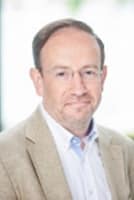 My Job
Managing Director in Brussels acting as Chair for the company on sustainability and corporate purpose.
My Experience
With more than 25 years' experience, it is clear that sustainability has gone mainstream within companies and government.  Experienced on EU environmental policy and more broadly on sustainability and corporate strategy, I am passionate about integrating public affairs and communications to develop innovative campaigns for companies, industry sectors and NGO clients.
My Specialisms
My Proudest Achievements
Helping integrating sustainability into the world of sports:
brought together leading environmental NGOs and sports in the Playing for our Planet report;
initiated first Sustainability Action for a global youth sports event.
My Education
BA in European Studies, University of Ulster.  MSc in European Legal Studies, University of Edinburgh.
My Languages
English and French.
My Interests outside work
My passion for sustainability extends to outside my work, including cycling, golfing and, for gender equality, acting as a Trustee and raise funds for Classrooms in the Clouds, a charity which supports 3,500 girls and boys in schools in the eastern Nepal.
My Favourite Brussels anecdote
Being open to alternative viewpoints is a key principle of public affairs.  My persistent efforts to seek a meeting with MEPs early on in my career led to an MEP having to stand up in Committee and defend my actions and that principle.