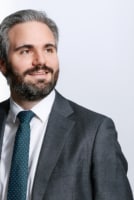 My Job
My job is to help my clients understand and navigate the EU's complex multi-stakeholder universe. At Brunswick, we bring the outside world in, act as our client's strategic sounding board and advice our clients on positioning and engagement. Clients rely on us to help them anticipate trends, unravel political developments, and assess the impact of new EU rules. We also support clients in developing narratives and engagement programs to enhance their reputation and engage more effectively with policymakers, journalists and other stakeholders.
My Experience
I have been working in public affairs and strategic communications for the last decade. At Brunswick I am part of the financial services and technology teams, and work on positioning campaigns and complex transactions with global colleagues. I am also the co-chief of staff to Brunswick Chair of Europe, Pascal Lamy.
Before joining Brunswick, I worked for a large Belgian trade association as policy advisor EU affairs. I started my career as a civil servant at the Belgian Finance Ministry, where I worked in the strategy and communications team reporting to the President.
My Specialisms
My Proudest Achievements
Any time a client sends a 'thanks a million Brunswick team, great job' is a proud achievement in my book.
But if I really must pick one example… Last year I was part of a global team which developed a new sustainability narrative for a global brand. It was an intense and complex project – which led to quite some short nights I must admit – but hearing the CEO use the narrative and seeing the company drive change made it all worth it. One upside of the pandemic is that working with colleagues from the world has never been easier.
My Education
Bachelor in History and Master in European Studies at the Katholieke Universiteit Leuven.
My Languages
English, Dutch and French.
My Interests outside work
I love strolling through Brussels on a Saturday or Sunday, looking for a fun little bar to sit and watch people pass. I also try to read whenever I can, mostly non-fiction and history books, and enjoy the city's cultural offering whenever I get a chance.