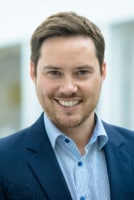 My Job
As a Deputy Managing Director, my role as a member of APCO's European Leadership Team is to develop and implement the office strategy in Brussels. I'm the lead of the EU health practice, but I also enjoy working on non-health accounts, advising clients on a variety of policy issues and communication challenges. In both roles, I usually oversee and help coordinate pan-European client work and collaborate closely with other APCO regional leads in North America and Asia. Most importantly, I try to spend as much time as possible with clients and prospects.
My Experience
Early on I wanted to pursue a career in journalism and while at school I had the opportunity to work in it. During my time in the army, I joined the German PSYOPS team (psychological operations) and learned a lot about communication strategies, target audiences and how to best get your message across. After short stints at a political foundation and as a parliamentary assistant in the German Bundestag, I started at APCO Worldwide in Berlin. I have moved around quite a bit since then, having acted in a variety of capacities and worked in places such as Chicago, Abu Dhabi and Rome before finally coming to Brussels.
Throughout my career I have been engaged in political advocacy, policy analysis, campaigning, and message development. My specialty is in pharmaceutical, medical device and health communication. I have advised health clients on disease awareness campaigns, regulatory milestones, market access programs, issues preparedness and crisis management. I have also undertaken several in-house secondments including as public affairs and communications lead at Johnson & Johnson Medical in Germany.
My Specialisms
My Proudest Achievements
What I find most fulfilling in my job is working together with other people on campaigns and projects with a clear timeline that have a societal impact. A good example is a project that I supported during my one-year secondment at Johnson & Johnson. I was responsible for coordinating an obesity campaign and everything you could wish for came together: we worked with members of the parliament and government officials, citizens affected by this disease, a health insurance as main project partner, media and even students of photography who helped bring this rather stigmatized topic to life.
My Education
FU Berlin, Political Sciences with a regional focus on Turkey and the Middle East
My Languages
German, English, French and Turkish with my wife's family.
My Interests outside work
I spend most of my free time with my family, but also like to run through Parc Duden or just read and play my guitars. I'm also the co-founder and deputy chairman of 'Network Turkey', an independent non-profit organization that promotes informed and objective discussion on Turkey.
My Favourite Brussels anecdote
When I came to Brussels, I spent a surprisingly large amount of time at Karaoke bars. Most playlists in the Belgium capital don't offer a lot of choice when it comes to German songs, so you usually end up asking for "99 Luftballons". One day, at a 'dive' in Sablon, I prepared myself to sing a song, just to find that a small group of EP assistants, one of them disguised as Angela Merkel, picked the same song. No one really liked the song, but we tried hard to deliver a good show. I learned a lot about what it means to be German in the Brussels EU community that evening.