Transparency is a really big deal in Brussels. Transparency is a key part of activating support for the European project and encouraging European citizens to participate more actively in the democratic life of the EU. The EU has come a long way since the author came to Brussels in 1993. In those days European Commission officials would often refuse to speak any other language than French, and deny access to important policy documents. Now, national capitals trail Brussels in terms of transparency.
The EU Transparency Register was set up in June 2011 to answer core questions such as what interests are being pursued, by whom and with what budgets. The system is operated jointly by the European Parliament and the European Commission. Compared with the situation in the 1990s the Transparency Register should be considered a success, however, there is a long way to go, especially compared with Washington. A mandatory lobby register with enforced financial disclosure and theoretical high punishments exists on federal level, as well as in every almost every US state.
2020 marked an important milestone for oversight of the EU lobbying sector and a new chapter for transparency in the EU.  Groups including EPACA and SEAP have been actively advocating to expand the EU Transparency Register's scope and make it mandatory. On 15 December 2020, Parliament, Council and Commission reached a final political agreement on a mandatory transparency register, concluding a process of inter-institutional negotiations which were launched in 2018.
The reinforced Transparency Register will apply to all three institutions, including the Council for the first time. Other European Union institutions and bodies can voluntarily use it too, thereby increasing the potential for greater transparency at EU level. The member states' permanent representations will also take part through unilateral voluntary measures.
The agreement will have to undergo internal adoption procedures in each institution, after which it can be signed and enter into force. For Parliament, this means it will be referred to the Committee on Constitutional Affairs, and then tabled for a vote by the full House. In the Council, it will be submitted for approval by the Committee of Permanent Representatives and afterwards adopted at Council level. The College will need to formally adopt the Agreement and empower Vice-President Jourová to sign it on behalf of the Commission.
Lobbying Transparency in EU Member States
Regulating lobbying is a rather recent concept in the majority of Member States. According to the European Parliament Research Service report of December 2016 seven Member States (France, Ireland, Lithuania, Austria, Poland, Slovenia and the United Kingdom) have legislation on lobbying activities, as well as a mandatory register of lobbyists. For further information see their report here.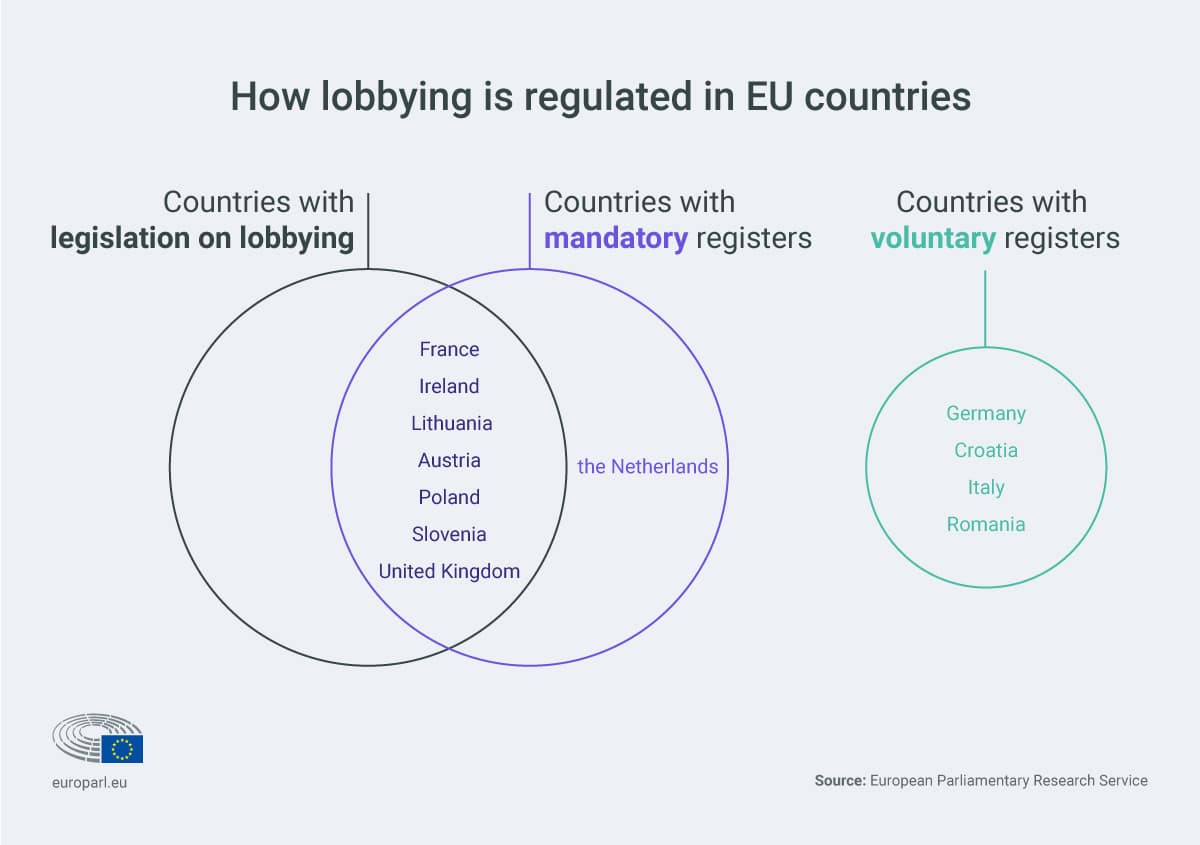 If experience is anything to go by it seems that a mandatory register is the best way to improve transparency. For example, several years after Ireland introduced some of the strictest laws in the world on lobbying transparency, the reforms are being held up as a gold standard. On 1 September 2015, the Irish Regulation of Lobbying Act 2015 launched a mandatory requirement for lobbyists to register and report on their lobbying activities every four months. Information submitted to the Register is available for public inspection at www.lobbying.ie. The website, which includes the online register, also has a suite of information tools designed to help lobbyists, designated public officials and the public to fully understand the Act and its obligations. As Conall McDevitt, CEO of Hume Brophy, one of Ireland's largest lobbying firms says: "I've not heard anybody suggest the Lobbying Act has impacted in any way the willingness or the ability to influence policymakers. It is always better in our industry to have transparency, we're all the stronger for it."