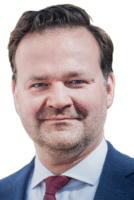 My Job
I joined the FIPRA International Partnership after being a Network partner since 2007. I provide strategic public affairs advice across our different business practices. These include healthcare, transport, travel & logistics, digital, green transition, food & drink, competition and trade. In addition, together with my colleague partners, we manage the Brussels team of 45 highly experienced public affairs consultants and define our growth strategy.
My Experience
I started my career back in the 90s at Agoria, the largest industry association in Belgium, where I was the lead advisor on sustainability policies. In those days the 'polluter pays' principle was still considered as groundbreaking and industry didn't have the pro-active mindset as it has today.
In early 2000 I joined Ernst & Young, who were setting up an entire new public affairs team after the Enron fall-out that impacted all Big4 practices. I gained thorough understanding of financial consultancy services and helped structuring to sell these services to public authorities.
In 2004 I founded Politics Matters, offering public affairs services to a variety of corporate clients and also European trade associations and I joined the FIPRA network few years later.
My Specialisms
My Proudest Achievements
In response to legislation, I invented and negotiated the set-up of the Belgian national take-back scheme for electronic waste. Initially I wanted to call it RecuBel, but somehow that name already existed and so today everybody is familiar with Recupel. In the following years the system would become a standard for establishing new take-back systems across Europe.
My Education
Master of Arts in History, KULeuven (Belgium)
Master in International Relations, Universität Wien (Austria)
My Languages
English, French, Dutch, German
My Interests outside work
I follow American politics and during my many travels to the USA over the last 15 years I had the privilege to meet quite a number of fascinating personalities.
Through my family's Foundation, that we established at the KULeuven University Fund, I have a sweet spot for supporting the development of tools and knowledge that would enhance and increase better (access to) education.
My Favourite Brussels anecdote
In the early days of my career back in the 90s when I started working on environmental policies, we were negotiating more stringent legislation for taking back electronic waste. One day a Minister of Environment provoked a group of industry CEOs by telling them "the only thing that's "clean" about your waste process, is the waste itself".  Since then, the mentality in the boardrooms have changed a lot and sustainability is no longer considered a hype.