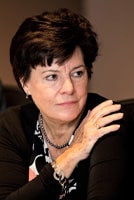 My Job
In 1999 I set up Europe Analytica, providing tailor- made public affairs and media services to companies, trade associations, industry coalitions and the European institutions. Today with over 30 years of experience and, together with a young and dynamic team, we work across many sectors to provide with bespoke solutions which are flexible, have added value and maintain a high code of ethics.​ We have an extensive and influential network ready to help businesses, educational institutions and think tanks to make the best of the challenges and opportunities that the digital transformation brings in so many facets, with a specific focus on cultural, media and creative industries.
Since 1991 though, I've been the Executive Director of the European Publishers Council (EPC). I have run and helped shape this unique, high level lobby group of 25 Chairmen and CEOs of leading press and multi-media organisations who meet to consider the key issues facing them in Europe and globally. We provide valued and authoritative feedback at the earliest stages to those responsible for regulating our fast-changing, complex industry. Respected for responding proactively to legislative challenges, we present innovative ideas and solutions to complex regulatory issues.
Based on my experience and contacts built up through EPC, I brought to Europe Analytica a wide and diverse number of important clients such as: the European Audiovisual Production (CEPI) gathering 18 national association of independent Film/TV producers across Europe, the News Media Coalition (NMC), and FIAD (International Film Distributors).
My Experience
Experienced senior consultant with over 30 years' experience of the media and advertising industry – business and legal, demonstrating successful strategic, communications and campaigning skills. I have expert knowledge of the media, publishing, broadcasting and of digital platforms with leading edge insights.
I have led many successful lobbying and press campaigns in support of media and publishing companies and have specialist knowledge of copyright, data, ePrivacy, media and advertising regulation, and of self-regulation.
Wide experience of negotiations at the very top level of major media groups, the EU Commission and the European Parliament with many senior contacts among officials, companies and politicians.
Company Director, Non-Executive Director, Trustee, Chairmanship, Political and Charity experience.
During my earlier career I was Head of European Affairs and Special Issues at the UK Advertising Association (1989 to 1991); European Executive for the ITV Companies' Association (1983 to 1987) and Assistant European Executive at the Retail Consortium (1980 to 1983). I represented these bodies on the Boards of their counterpart European level associations. Between 1977 and 1980 I worked at Davum Steel and Total Oil in London and for Forex Neptune (Schlumberger) in their Paris Office.
My Specialisms
My Proudest Achievements
While bringing up a young family I took the risk to set up my own company – Europe Analytica, as the consultancy that I had always wanted to work with, and failed to find in my role as a client of several other consultancies!  I am immensely proud of what we have achieved as a company and for our clients, and very happy our commitment was also recognised recently with two awards at the European Public Affairs awards, last November 2018. We were awarded the In-House Team of the Year award for our Communication team and the Lobbying the European Parliament award for our work for several clients on the highly contested draft Copyright Directive which I'm happy to say has since been successfully approved.
My Education
Institut Français, London; External Diploma from the Sorbonne in French and Business Administration.
My Languages
English and French
My Interests outside work
I love to travel and photograph people and places. I've been all over Europe and worldwide including to Iran, India, Brazil, Peru, Bolivia, Chile, Vietnam, Thailand, Cambodia, Laos, the Caribbean, United States, Canada, Madagascar, Africa (north and south), China and Japan. Often camping, sometimes skiing, cycling, practicing yoga, but always with my camera. I'm a member of 2 literary book clubs and, as often as possible, I spend time with my two little grandchildren!
My Favourite Brussels anecdote
With my EPC Chairman I led a delegation of EPC member company CEOs to have a lunch discussion with President Jean-Claude Juncker, together with VP Ansip and Commissioner Oettinger. The President said his Commission colleagues, as the experts, should lead the discussions on the specifics of copyright and ePrivacy, but when we got to the subject of VAT, President Juncker intervened with a cheeky smile on his face saying – ah, now this is something I do know about and am happy to lead this discussion!