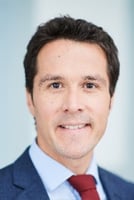 My Job
I have the honour to lead a fantastic team of 120 EU professionals, and advise my own portfolio of clients consisting of corporations and associations in the energy, mobility, and sustainability fields. Under my watch, Interel's EU revenues have grown by 50% since 2012 (now € 6.50 M annual revenue).
My Experience
Before joining Interel in 2012, I held Director positions at Weber Shandwick, Havas Worldwide, the European Aggregates Association (UEPG) and started my public affairs career at Hitachi, Ltd.
My Proudest Achievements
I am also very proud of the multiple awards Interel won under my watch:
2020 EMEA Independent Agency of the Year – ICCOpr.com
2020 Winner – EMEA SABRE Awards
2018 Consultancy of the Year, PA Awards Europe
2018 Consultancy campaign of the Year, PA Awards Europe
2018 Ethical Campaign, PA Awards Europe
2017 Consultancy of the Year, PA Awards Europe
2017 Best In house-agency collaboration (with the Coca-Cola Company), PA Awards Europe
2016 BENELUX Consultancy of the Year – SABRE,
2015 ICCO Independent Consultancy of the Year 2015
2015 EU Consultancy Campaign of the Year, Public Affairs Awards
2014 Best Consultancy, European Public Affairs Awards.
My Education
Emlyon business school
Master, Marketing · (1994 – 1997)
Institut catholique de Paris
Master II, European Affairs · (1997 – 1998)
Harvard Business School
Executive Education, Leading Professional Services Firms · (2015 – 2015)
Stanford University
Executive Education, Strategy beyond markets: Building competitive advantage through GR and PA · (2016 – 2016)
Saïd Business School, University of Oxford
Strategic Leadership Programme  · (2018 – 2018)
My Languages
French, English, German.
My Interests outside work
Singing in a band and running marathons & semi-marathons.
My Favourite Brussels anecdote
Back in December 2002: Antony Fell, Secretary General of the European Aggregates Association (UEPG), asked me before my job interview "how would I recognise you if we were to meet in the lobby of the Leopold hotel", I responded  "I will be wearing a Christmas hat". I kept it during the whole interview. We laughed a lot and I got the job.