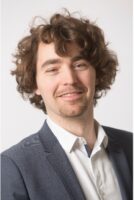 My Job
Advising clients on their media and PA strategies, both in Belgium and at EU level, and coach junior colleagues to do the same for their clients.
My Experience
Before joining H+K Strategies in 2016, and a brief stint at another consultancy, I worked as a policy adviser on energy and climate at the Belgian embassy in Berlin.
My Specialisms
My Proudest Achievements
Advising clients throughout the preparation and unfolding of the EU's Green Deal package is particularly rewarding. I get a real boost every time we manage to turn a complex client issue into an engaging, understandable story that is picked up by political and/or media audiences.
My Education
Master of Political Science (KU Leuven) & Master of Business Economics (Ghent University).
My Languages
Dutch, English, French & German.
My Interests outside work
Cycling, travel, good food. Proud supporter of the last Belgian football team to have won a European cup (KV Mechelen, 1988).