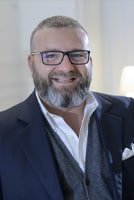 My Job
I strive to help organisations and people connect. That's what I believe in and what inspires me. And that's why today I focus on building partnerships and business strategies between businesses, consumers and the scientific world.
My Experience
Originally from Italy, I have 20+ years' experience in advocacy, government affairs, communications and CSR, particularly in purpose-driven campaigns that impact organisations' business growth. Prior to joining BOLDT, I managed the Brussels EU office at Danone.
My Specialisms
My Proudest Achievements
I am a leading European consumer affairs expert.
My Education
Executive Master – EU public policy (CHEE) from éna – Ecole Nationale d'Administration (Paris)
Associate's degree in Marketing & Corporate Communications from Accademia di Comunicazione (Milan)
My Languages
English, French, Italian
My Interests outside work
My wife and my kids, my great friends, cooking, wine tasting, golfing, diving
My Favourite Brussels anecdote
Please sit back, relax, take a coffee… I would have anecdotes for the next ten hours!