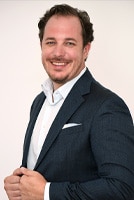 My Job
I stand at the "commanders hill" when my clients need a perspective they haven't had before and I "fight in the trenches" with them when it is necessary to defend their strategic corporate interests.
My Experience
After a first position as policy assistant to an MEP held in the European Parliament, I was hired by Pleon Publico, the then biggest PR and PA-franchise in Europe, to establish their EU office. After fours years of successful expansion I founded "pantarhei corporate advisors" together with my other partners, being a Managing Partner now for almost 10 years.
My Specialisms
My Proudest Achievements
On the Public Affairs level, we have been able to save millions of Euros for our clients in successfully advocating their interests during the 2008 and 2016 review of the ETS directive.
On the strategic consulting level, my personal highlight was to help the EPP Group in the European Parliament in 2009 to re-structure their communication processes to be equipped for a state-of-the art communication and to support them in their branding concept, among others by creating the tagline "Europe's Driving Force".
My Education
Master in Political Science at the University of Vienna, Austria
University Diploma in Political Science at the Haute Ecole d'Etudes Politiques in Aix-en-Provence, France
My Languages
German, English, French.
My Interests outside work
First of all my two children, Hunting, Sports.
My Favourite Brussels anecdote
True or not, a funny story: A German Head of Government was once appearing in front of the EP and included a joke in his speech that was simply not translatable for the interpreters. The English interpreter solved his dilemma by asking all listening MEPs to laugh at his command in "3, 2, 1…"