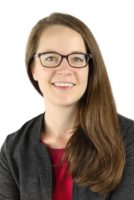 My Job
I split my time between our health practice and management of the Brussels office, where I focus on our people and culture. Health policy is my first love, and I lead accounts where clients are aiming to influence European and global health agendas. As deputy managing director of the Brussels office I support the professional development of the entire APCO team, shaping a workplace that is adapted to the realities of consulting in 2022.
My Experience
I have been in roles at APCO for over 10 years, starting in the Washington, DC headquarters and spending a year seconded in Abu Dhabi before making my way to Brussels five years ago. I had previously worked on a team studying science policy at a think tank in DC, after a stint in direct patient care working in pharmacies in Denver, Colorado.
My Specialisms
My Proudest Achievements
Over the last five years I led the global APCO team which developed a series of indexes examining the preparedness of health systems around the world for forthcoming challenges in health policy for a major pharmaceutical client. In one month last year we were convening a group of leading experts in Africa to discuss pilot programs for increasing health system sustainability across the continent, polishing a paper about the limitations of data for assessing health system performance in Latin America, and collaborating with a major patient advocacy group in the EU to ensure that the future of health was meaningfully discussed as part of the Conference on the Future of Europe. The APCO team collaborated seamlessly across offices, and I got to witness a dozen of APCO's best consultants operating at the top of their game to deliver meaningful results tailored to their individual markets, in a truly integrated global project.
My Education
B.A. in Molecular, Cellular and Developmental Biology, University of Colorado at Boulder
M.S. in Biomedical Science Policy and Advocacy, Georgetown University
My Favourite Brussels anecdote
I've always known that Brussels was a bit of a "company town" for EU affairs, but that really hit home when I was attending my first in-person birth class for new parents ahead of the arrival of my new little one. Our class was 10 couples, and my husband and I were one of only two in which both parents are the same nationality. During the break the conversations were as much about recent policy developments as they were about the techniques we'd learned to calm a fussy baby. When a casual chat turned to the European Health Data Space I was kicking myself for not thinking to bring business cards along, in addition to the swaddle I wanted the instructor to show us how to use. You never know where you'll meet someone interesting in Brussels!