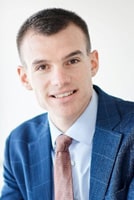 My Job
I am Director and Head of the Health & Wellbeing team at Edelman Brussels, supporting clients from the health, nutrition and consumer sectors on both policy and reputational issues at different levels – global, European and national.
My Experience
Throughout my professional career, I have been leading high-profile government affairs and communication projects and campaigns for a wide range of blue-chip companies, trade associations and governments, supporting them on regulatory matters, product launches and the establishment of multi-stakeholders coalitions.
Before joining Edelman, I held various positions in a leading global business advisory firm, guiding clients in their public affairs and communication engagements.
Previously, I assisted a Member of the European Parliament focusing on public health and food policies.
My Specialisms
My Proudest Achievements
My proudest achievement to date is probably being able to mentor students and young professionals on how to approach and navigate the complex public affairs environment. I've been providing lectures in public affairs and government relations at my former university since 2017: I have to say that interacting with students and coaching them on how to understand public affairs is extremely rewarding. At the same time, it allows me to think about my profession from the outside, which is always a good exercise in order to come up with fresh ideas and new strategies.
My Education
Bachelor's degree in Political Science from the University of Trieste
Master's degree in European Public Policy from the University of Kent
My Languages
Italian (mother tongue), English and Spanish.
My Interests outside work
I love sports, in particular football and boxing. As soon as I realized the positive effect sports had on my mind, it became impossible for me not to practice sport during my free time.
My Favourite Brussels anecdote
When it comes to Brussels anecdotes, I find it interesting to see how many mutually beneficial professional relations begin outside offices and meeting rooms. This shows how important it is for a public affairs professional to find a balance between getting things done when sitting at his or her desk, and at the same time don't forget the importance of networking, whether at policy events, cultural exhibitions or other social events.