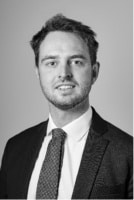 My Job
We are a firm with a clear purpose, to help major companies and democratic governments navigate international politics, shape public policy, and get their message across.
My role is to help clients shape the narrative on issues that matter to them. This means working at the intersection between media, campaigning, and high-level outreach.
My Experience
Before joining Rasmussen Global, I spent seven years working in the European Parliament in communications roles. I was a press advisor to President David Sassoli and a spokesperson for the centre-left S&D
Group. In both roles, I gave strategic communications advice to senior politicians, managed social media and press campaigns, as well as writing speeches and op-eds.
 I started my career at NIKE's European HQ in the Netherlands. I then moved to Brussels and worked in communications roles at the European Defence Agency and in the private sector.
My Specialisms
My Proudest Achievements
My proudest achievements have always been running successful campaigns. At the European Parliament, this could be on ending roaming charges in Europe or changing public perceptions about the EU response to COVID-19.
This year, I am managing press and media for the Copenhagen Democracy Summit, which was launched by my boss and Former NATO Secretary General Anders Fogh Rasmussen in 2018. I am proud to work for an organisation that stands up for democracy and fights back against rising authoritarianism.
My Education
University of Sussex, BA in History
University of Law, London, Graduate Diploma in Law
My Languages
English, French
My Interests outside work
I'm a big sports fan. I am still a regular for UKFC in the BXL Euroleague and became a padel fanatic during the pandemic.
If I'm not playing sport then I'll likely be watching, USG or Newcastle in the football or Wales in the rugby.
My Favourite Brussels anecdote
Plenty of good ones from the Parliament but probably better told over a coffee or beer….