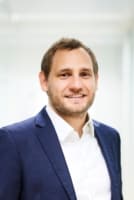 My Job
As practice lead for healthcare & food at BCW Brussels, I act as a strategic advisor for a wide range of health organizations and help them navigate the European policy agenda with the ambition to improve health-related quality of life and well-being.
Our motivation is driven by the intrinsic challenge of combining art with science, data with insights, and influence with meaningful policy change.
My Experience
I started my career in public affairs in Ottawa, working for someone who quickly became a great mentor. Back in Europe, I broadened my policy experience in Brussels (trade organization), Paris (consultancy), and London (start-up) working across several industries and then moved to Washington, DC where I joined SANOFI's international public affairs team.
Prior to joining BCW in 2021, I worked four years at Porter Novelli – Ketchum Brussels, first as Senior Consultant and then as Senior Vice President, Europe Policy Lead, Health. I led a team of passionate consultants and contributed to several award-winning policy projects with clients who are in this business to make a real difference.
I am also actively engaged in the European Health Parliament and Young Forum Gastein.
My Specialisms
My Proudest Achievements
Leading a multi-year partnership with Pfizer Oncology with the goal to significantly improve the standards of cancer care in Central & Eastern Europe. We managed to design an innovative, data-driven program that was truly enabling stakeholders to drive policy change. This program brought tangible public health impact at EU level and on national cancer care policy. And my team won a Communiqué Award in 2020 for developing a unique data visualization approach!
My Education
I graduated from ESCP Business School with a Master in European Business (UK and Italy) and from Sciences Po Grenoble with a Bachelor's degree in Political Science and a Master's degree in Public Policy (France and Canada).
My Languages
English, French
My Interests outside work
Hiking in the mountains, travelling, history, rugby, music, politics, entrepreneurship, family and friends.
My Favourite Brussels anecdote
The best coaching advice I have ever received from a Brussels veteran and mentor: "A bad attitude is like a flat tire. You can't go anywhere until you change it."