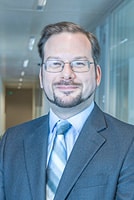 My Job
I lead APCO's Brussels office, head our European financial practice and act as a global lead for our work with Microsoft. I tend to work alongside our policy experts and sectoral practices to develop and implement communication strategies and campaigns. This work can include crisis management, stakeholder engagement focused on policy outcomes, and communication around material events such as litigation, M&A and anti-trust.
My job also plugs me into the APCO Worldwide network across Europe and around the world, where I contribute to international projects and help bridge the gaps in understanding that occur naturally between regions as diverse as the Americas, Europe, the Middle East, Africa and Asia-Pacific.
Both within Brussels and abroad, my job focuses on finding the most effective narrative for my clients' needs. I pare down important and detailed technical arguments or policy positions to their essential core, then build and activate creative campaigns around that core, using the full range of APCO's communication tools and disciplines.
My Experience
Well, I've been in Brussels, with APCO, since 2008 and time flies. Before this I had over a decade in London public affairs. My initial few years at Edelman and Text 100, during the dot.com boom and bust, were largely technology-led public affairs. Key clauses of the Electronic Communications Act and the Regulation of Investigatory Powers Act still lurk in my mind.
After a while I was lured away to work for The Royal Parks, which provided me with one of the best offices in London (in the middle of Hyde Park no less) and taught me invaluable lessons in stakeholder management (naturists by the Serpentine), crisis communication (the Diana, Princess of Wales Memorial Fountain), high profile events (Live 8 and the 2003 Anti War March) and realpolitik.
Brunswick didn't have parkland but it was a massive step up in terms of consultancy and advisory practice. The lessons learnt there, particularly the role of effective media communication in M&A, have played an essential role in my subsequent time at APCO in Brussels.
My Specialisms
My Proudest Achievements
Well now, there are good reasons that most world religions think pride is a problem. If nothing else, it can make you blind to your faults and can obscure the role that others play in "your" success. I've done some things I am genuinely pleased with, most recently in helping foster and launch the Digital Peace Now campaign and in supporting Bombardier's successfully argument against the Siemens-Alstom merger, but it's always been as part of a team, not just within APCO but with lawyers, economic analysts, in-house specialists and many others.
My Education
Robinson College, University of Cambridge, History.
My Interests outside work
I read way too much science fiction and actual history, which I'm fairly sure causes cognitive dissonance. I've also developed an unreasonable (academic) fascination with gin and with 14th century sword and buckler fencing, which are another two things I don't think should be carelessly combined in practical terms.
My Favourite Brussels anecdote
Over twenty years as a public affairs consultant more or less proves the observation that "life's barely long enough to get good at one thing, so be careful what you get good at". Most of the stories I have can't be put down in print, some can barely be said out loud in polite company. That being said, the anecdote I use the most, professionally speaking, relates to the denouement of a doubtless apocryphal Council meeting, where the French representative raises his hand after the final compromise has been brokered and says, "Whilst I agree this works in practice, does it work in theory?"