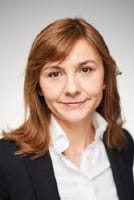 My Job
Partner, leading Kreab's banking and insurance practice; working with a range of multinational clients across the financial services sector; advising them on political and regulatory issues and helping them to develop their public affairs strategies.
My Experience
I joined Kreab from Invest Europe, where I was Director of Public Affairs in charge of developing the association's long-term public affairs strategy.
Prior to that role, I was First Counsellor in charge of European financial regulatory issues at the Permanent Representation of the Republic of Poland to the EU. During the Polish Presidency of the Council of the EU in 2011, I chaired the Council Working Group examining different legislative proposals for financial services.
Before that I spent several years at the Polish Ministry of Finance where I was Head of the Financial Stability and Banking Units.
My Specialisms
My Proudest Achievements
I've been fortunate to have worked with many inspiring people and had some rewarding experiences (such as the first Polish Presidency of the Council of the EU), however bringing up my son remains my proudest achievement.
My Education
I graduated from Kraków University of Economics and also hold a master's degree in finance from the Stockholm Business School.
My Languages
Polish & English.
My Interests outside work
Reading, travelling and photography.