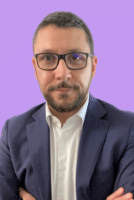 My Job
I took over Instinctif's Brussels office in January 2023. We have an amazing team, with ambitious development goals. My job is to take the company to the next level and accompany our clients in this troubled economic and geopolitical environment.
I specialize in all things tech – from platform regulation to data protection, and from cybersecurity to space & telecom policy. I also have a decent financial services and sustainability background.
My Experience
I have over 23 years of public policy experience, gained in leading PA and comms agencies (FTI, H+K), as well as in-house (Canon) and within trade associations (DIGITALEUROPE).
My Specialisms
My Proudest Achievements
I am proud to have set up the government relations office of a Japanese multinational in the early 2010s – a function that survived to date. Also proud to have founded and managed an independent boutique agency a decade ago.
My Education
Two master's degrees obtained in Strasbourg – Political Science/International Relations, and Public Policy in Europe.
My Languages
French (native), English (fluent)
My Interests outside work
Retired rugby player, wine lover and Sunday cook, I also love walking my beagle in the forest.
My Favourite Brussels anecdote
I am the keeper of many secrets about powerful and influential folks in our EuroBubble… I might write a book about it when I retire. Not there yet!