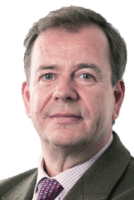 My Job
I am a Senior Director with FIPRA with a key role on the work around the EU Green Deal and chemicals strategy for sustainability in particular. This includes assessing pertinent EU policies and regulations and providing strategic advice as well as support on outreach.
My Experience
My first relevant professional job was with the Finnish Central Chamber of Commerce as a Counsellor of European Affairs, which included being their representative on the EFTA Consultative Committee.
I then joined a private public affairs consultancy in the early 1990s becoming a Partner and Managing Director. I became a Partner in the late 90s of a leading pan-European public affairs group and heading up their Public Policy Management practice.
I joined FIPRA as a partner in 2007 heading up various practices until 2016. I then spent two years an Executive Director for Business Development in a mobile platform technology company and remained in FIPRA as a Special Director until the end of 2020.
My Specialisms
My Proudest Achievements
I have over the years made several contributions that have had an impact on regulatory and legislative changes at a national as well as EU level and all of these have made a big impact on the clients, whether these are from private, public sector or Governments.
I have for the past 5 years spent a lot of time helping companies to promote successfully sustainable alternatives to substances which are subject to REACH authorization and restrictions.
For more than a year now I have been assisting an essential sector in the EU to obtain better regulatory recognition enabling them to further focus on R&D and innovation.
My Education
BBA in International Business
MA in International Relations
My Languages
Finnish, Swedish, English, French
My Interests outside work
I am a big fan of food and nature.
My Favourite Brussels anecdote
'Don't take no for an answer' and 'you can't beat something with nothing'.