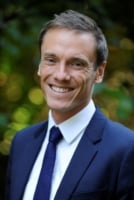 My Job
Building the best food and agriculture practice in Brussels.
My Experience
Various public sector roles in national government, foreign service and multilateral institutions including the European Commission and UK Representation to the EU.
Director of Public Affairs for CropLifeEurope (formerly ECPA)
Global Head of Media Relations & Public Affairs for a major multinational in agriculture.
My Specialisms
My Proudest Achievements
Being awarded European Public Affairs Professional of the Year in 2018. It was my proudest achievement because it was awarded by my peers.
My Education
BA(Hons) Politics.
My Languages
English, German, French.
My Interests outside work
An avid runner and triathlete. Two things which allow me to indulge my third passion, which is food and wine!
My Favourite Brussels anecdote
When a particular MEP who was recording a meeting we were having on his smartphone (because I was lobbying for an industry he didn't like), suggested that in order to be able to spend more money on food that people should stop buying stupid smartphones. He didn't get the irony…