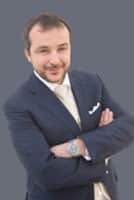 My Job
Keep sight of the big picture.
My Experience
Access to life-saving pharmaceutical in Africa; Access to open standard cellular technologies; financing and protection of inventions and patents.
My Specialisms
My Proudest Achievements
Participated in the creation of the global fund and life-saving delivery.
My Education
Legal and Engineering backgrounds.
My Languages
Spanish, English, French, Italian and sometimes German.
My Interests outside work
My family and the occasional high-adrenaline sports (kite surfing).
My Favourite Brussels anecdote
Too many to pick one