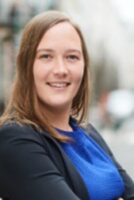 My Job
Advising clients and working with them to find the best approach to address the challenges and opportunities unique to them. The EU policy context is a major part of that, but the interests of the organisations I work with often stretch beyond the policy bubble. Another important part of my job is to help the young professionals in our team on their personal development path.
My Specialisms
My Proudest Achievements
Whenever I've managed to bring a team of individuals together to build something meaningful. Forming a coalition with a strong cohesive message out of different organisations. And whenever I see junior employees I have helped coach provide impactful client advice.
My Education
MSc in economics focusing on resources, development and growth.
My Languages
Danish, Dutch, English, French, German, Lebanese Arabic, Mandarin and Swedish (some better than others, depending on recent opportunities for practice).
My Interests outside work
Exploring the world and eating new things. When global pandemics render this impossible, I enjoy a good book, playing my piano and guitar, and exploring Brussels.
My Favourite Brussels anecdote
Like most people I've experienced my fair share of Dutch/French street name confusion. Once a taxi driver dropped a friend of mine off at night in an industrial complex in Anderlecht. He was quite concerned for my well-being, thinking I lived in a container. Thankfully we managed to clear the confusion and find him a new taxi.