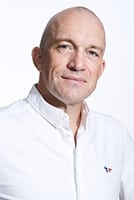 My Job
Partner, Brunswick Group Brussels office, leading on technology and consumer industry groups.
My Experience
26 years in Brussels. MEP Assistant. NGO campaigner. Ran own boutique EU PA consultancy for 10 years.
My Specialisms
My Proudest Achievements
Seeing the development McDonald's Food Information System into fruition ahead of EU food labelling law.
My Education
MBA Open University
MA European Affairs –  University of Hull
BA hons Humanities – Humberside University
My Languages
English and French.
My Interests outside work
Road cycling (6000km + per year), collecting soul music and monthly internet radio show.
My Favourite Brussels anecdote
Losing an EP vote on GMO labelling by an handful of votes because the Italian centre-right went to watch football!