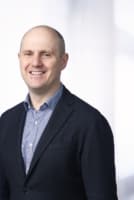 My Job
I work with companies to help them make sense of the EU and its evolving tech policy. I work with classic tech companies that make essential components through to support for some of the GAFAs. My role is to make the complex processes of the EU as simple as possible for my clients and give them recommendations on how to engage.
My Experience
Before joining FTI in May 2020 I was Senior Director for Government Affairs EMEA at Dell Technologies running the company's engagement with Government across the region. Previously I worked at another consultancy specialising in environment policy.
My Specialisms
My Proudest Achievements
During my time at Dell I established the AmchamEU's executive committee as one of the preeminent industry engagement groups.
I established Dell as a leading brand and partner with European Governments on their tech needs and tech policy development.
My Education
BA in European Studies with Spanish, University of Manchester.
My Languages
English, Spanish, Italian and French.
My Interests outside work
I enjoy cycling (I own 5 bikes) and doing sport in general.
My Favourite Brussels anecdote
I have lived in Brussels for many years, and I still cant get over the fact that the fries are fried twice.